You might realize that at least once a month I have a new obsession that I claim I need to have but never actually buy anything from it. This time, my obsession has been dwelling for couple of months, I just didn't want to believe it was one.
I don't wear hats. I feel like they just look weird on me and my hair is too poofy to wear them. But that doesn't stop me from wanting hats though. Over the winter months it was beanies, but now that it's spring/summer, baseball caps have replaced them.
Now you might be wondering why someone, who is quite into fashion, would want a baseball cap. I'm not talking about your dad's ratty old caps from random companies. Nor am I talking about those Von Dutch caps that were extremely popular in 2008. I am talking fashionable baseball caps.
Yes, they are a thing. And I'm about to prove it to you.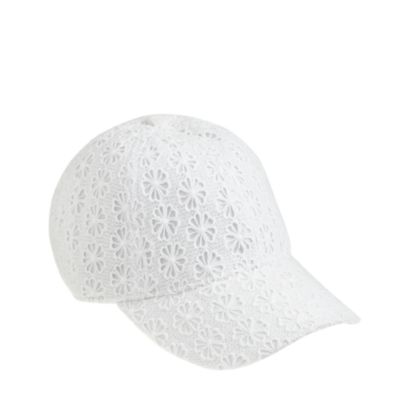 This eyelet hat is from J. Crew. This hat started my love. Right now it is on sale for $41.50, but if you use the code SOGOOD at checkout, it drops to $31.12. With shipping it comes to $35.17. I have actually purchased it, surprise surprise, and it will be here next week. Thank you Lori for the deciding factor, but sorry mom.
These two hats are from Forever21.
This polka dot hat is a nice way to add some pattern into an outfit!
I like the simplicity of the studs on this hat, it adds a little edge to an otherwise boring hat.
These next 2 hats are from Ardene, where they're 2/$15, so you can get both!
If you're looking for a more high end kind of cap because you like the name aspect of it, Kate Spade Saturday has this paint splatter cap for a still reasonably lower price than most brands! If you put your email in the sign up thing that comes up, you can get 15% off the $35! Also, paint splatter is extremely in right now so it's like you're killing two fashion birds with one stone!
Baseball caps are an easy way to fix a bad hair day, cover up from the sun, make sure you don't get a scalp sunburn and also add some sportiness (which is trendy still) to any outfit!
So hop on this little bandwagon I'm starting, and get a cute baseball cap for yourself! If you choose the first one, we can be twins! Happy shopping!
Also, happy mother's day! My mom would highly approve of this post since she wears baseball caps all the time!